Taking Stock 🍲
Happy Monday!
I've been on a soup frenzy for a few months now.  First of all, Hubs and I LOVE soup.  Secondly, LA has had its coldest and rainiest winter since I moved here 31 years ago.  In my opinion, nothing beats a good bowl of soup.  I even started a "Super Soups Series" on TikTok showing my favorite soups that work as a meal.  
The base of a good soup is good stock or broth.  The fewer ingredients you put in your soup, the more important it is to have high quality and good tasting stock.
What's the difference between stock and broth? Meat/fish stock is made with cleaned animal bones whereas broth uses bones with meat still on them, or meat alone. Stock tends to have a richer, deeper flavor and is not normally used alone, but as the base of a soup or stew. That said, I have noticed that the words are used interchangeably in recipes, so don't sweat it.  You can use a boxed "broth" if a recipe calls for "stock."
What is the difference between stock and bone broth? Bone broth is made with all bones and ones that have more connective tissue, and simmered for much longer than stock, anywhere between 18-72 hours.  There is much more collagen and nutrition in bone broth.  Over 30 years ago, I had an acupuncturist "prescribe" me bone broth to heal my then ailments.  It wasn't called bone broth then, but it was very good for me and I often think about getting back into a bone broth habit.  It is important to use organic bones as much as possible for making bone broth and stock since lead can accumulate in animal bones.  Not trying to scare you, just a suggestion.
The types of stock/broth I use:
Chicken Stock/Broth

Chicken Bone Broth

Vegetable Stock/Broth (technically there is no such thing as vegetable "stock," only "broth" since no bones are used.

Mushroom

Fish

Beef
I make my own chicken stock, chicken bone broth, and vegetable broth (recipe links at the bottom.)  Most chicken and vegetable stocks in the supermarket are absurdly salty and lack richness.  Stock Options and Bonafide are quite good, but very expensive. Kettle and Fire is also pretty good and my daughters buy it on ThriveMarket.com for a better price. Brodo, also really good, but the most expensive.
These I buy because I just don't use them enough.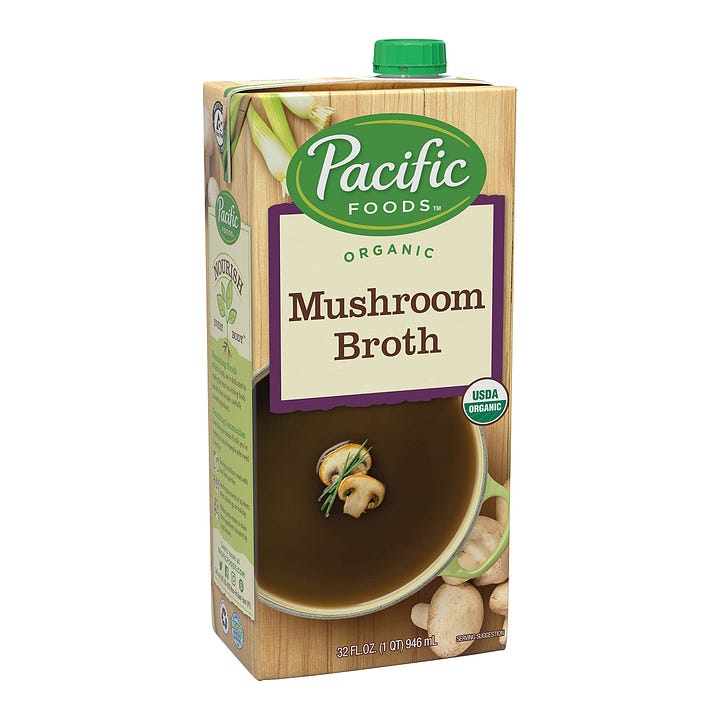 Making chicken stock is very easy, but takes time. You can make it one of three ways:
on the stove (here's my favorite stockpot)

in a slow cooker

in an InstantPot
My preferred method is in a slow cooker because there is no babysitting, no evaporation, and the cooking is very gentle which is how stock should be made.  The downside is that it takes longer because it takes almost three hours just to bring it to a boil. I usually cook on high for 3 hours to bring to a boil and then take it down to low and cook for 5-20 more hours.
Strain the stock, allow to cool on the counter for an hour and refrigerate. The next day you can skim the fat if necessary.
Some tips:
Don't throw out your chicken bones! If you roast chicken - either whole or pieces - and the flavors are neutral, use those bones in stock! I literally took the bones off my kids' plates LOL. I will freeze them wrapped in foil until I am ready to make stock.
I like to make stock when my freezer supply is low.  I used to freeze in glass containers.  See this post for how to do that.  Now I freeze in silicone Souper Cubes (this is not sponsored.) They come in different sizes, but the 2-cup and 1-cup make the most sense for me.  You can also freeze soup in individual portions and remove the soup blocks and transfer them to another container or bag so you can keep using the Souper Cubes.  I also freeze, defrost, and REFREEZE stock.  It's just a liquid. There is no change in consistency or anything else by refreezing it. Stock can be frozen for up to 3 months.  
RECIPES
If you are not a ThriveMarket.com member, you are not saving money, friends.  I have been a paying member since they launched many years ago and I save A LOT of money.  I can't even put together a list of everything I buy on Thrive because it would be too long.  You can have multiple addresses in your profile, so I share my membership with all my children. Here's a link to save you 40% on your FIRST order.