A Galentine's Lunch with ... TAKE-OUT! 💝
Happy Monday! 
I hope you survived the second biggest eating day of the year, AKA Super Bowl Sunday!  Prior to the Super Bowl, I hosted a very last-minute lunch at my house with 6 girlfriends, some of whom had not been to my new-ish house yet. I called it a "Galentines" lunch since Valentine's Day is coming up and I think a theme makes a get-together more fun. The problem was I had just gotten back from being away for 5 days, and had two full days of video shoots. Hmmm, when was I going to find time to cook?  I've been talking a lot lately about the importance of relationships, and how I consider them to be an essential nutrient for good health and longevity.  I decided that being with my friends was what was most important and the food was secondary, so I was going to order take-out and just add my own little special touches.  Guess what?  We had the best time and no one judged me for not having slaved for hours and hours over a meal.  Here's what I did:
MOCKTAIL BAR:
*Strong hibiscus iced tea
*Jar of fresh mint
*Bottle of fresh lime juice
*Bottle of fresh pink grapefruit juice
*Pink House Alchemy "Herbalicious" herb-infused simple syrup
*Jar of pink lemon slices
*Sweeteners: I transferred agave to a glass bottle (no, it's not healthy, but it dissolves easily in drinks) + packets of "sweet", a new allulose sweetener (trying for the first time, not available to the public yet)
*Pellegrino
*CB2 Marta glasses and Crate & Barrel wine glasses
DECOR
Heather Taylor Home is my favorite for table linens. I want everything in her store!  I used this tablecloth with these napkins which were so pretty and festive for a Galentines lunch.  I put out my matte gold flatware from Design Within Reach and cane glassware.
Purchased floral arrangement in pinks and pale greens
FOOD
GOOP Kitchen just opened in the South Bay where I live and I am SMITTEN.  There is very little good, fresh, healthy take-out in my area and GOOP Kitchen is a dream come true. The menu is totally my style of eating and tastes delicious.
APPETIZERS
Chicken salad with seed crackers, avocado, yellow beets, pickled onions (I supplemented with cucumber slices and jicama that I cut into hearts with heart-shaped cookie cutters.) Don't forget these little bamboo tongs!
Turkey lettuce cups
I ordered three of each of the following.  For the salads, I removed the avocado, tossed/shook the dressing with the salads in the take-out containers and transferred them to serving platters and added back the avocado. This way the avocado doesn't get mushy.
LUNCH
Thai Crispy Rice Salad (I added fresh cilantro and mint to the serving bowl)
Brentwood Chicken Salad (I added yellow and orange edible flower petals on top)
Winter Salmon Bowl (I garnished with microgreens - my ace in the hole for making anything look more professional)
DESSERT (I added edible flowers to the cake stand)
Coconut Chocolate Chip Cookies (I added a little flaky salt on top)
Brownies (I added crushed freeze-dried raspberries on top)
Fruit Platter 
This is the only thing I made. I had strawberries, raspberries, cherries, pomegranate seeds, flower petals and dragon fruit cut into hearts. Never underestimate the popularity and wow factor of a good fruit platter!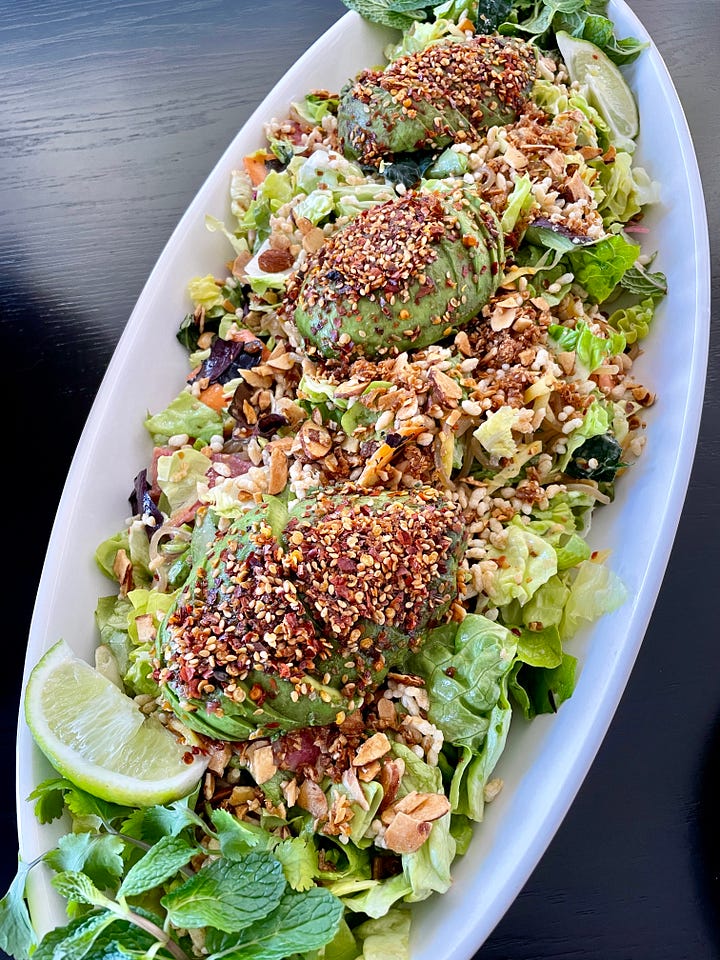 In my Entertaining with Ease course, I emphasized the importance of having a good time and enjoying the company of your guests versus making everything from scratch or a complicated menu.  Shifting gears, my mom shared an amazing soup with me and I made it on IG Live last week and WOW!  I'd love for you to try it:
xxPamela
---
The recipe is very flexible, so you can make it vegan or Paleo, as you prefer. It would be a great soup if you're feeling under the weather or you just want to stay feeling good.  Here's how you make it:
Anti-Inflammatory Chicken and Vegetable Soup
2 Tbs olive oil
1 onion, chopped
3 stalks celery, chopped
1 cup Japanese mushrooms, sliced (I used zucchini because I didn't have mushrooms)
10 cloves garlic, finely chopped
1 tsp ground turmeric
pinch crushed red pepper
1 1/2 tsp salt or to taste
freshly ground black pepper to taste
8 cups chicken stock, bone broth or vegetable stock
2 bay leaves
1 15-oz can chickpeas or white beans, drained but not rinsed
3 cups shredded cooked chicken (or use more beans or frozen peas)
2 cups chopped cabbage
Preheat a soup pot over medium heat and add oil. Add onion, celery and carrots and sauté until onion is tender and translucent.  Stir in garlic and mushrooms and sauté until mushrooms are tender.

Add turmeric, red pepper, salt and black pepper and sauté 30 seconds until fragrant.

Add stock, bay leaves, and beans and bring to a boil.  Lower to a simmer and add chicken. Cook until chicken is warmed through and vegetables are tender, about 5-6 minutes.

Stir in cabbage and cook until tender.